CRAFT VINYL SUPPLIES TIPS FOR HEAT TRANSFER APPLICATION
How to Layer Heat Transfer Vinyl
Put a fresh spin on your designs with multiple colors and finishes! Siser® HTV provides all kinds of options for you to layer, however not ALL heat transfer vinyl can be layered. If you want to check if your HTV can be layered, simply go to www.siserna.com, select the product from the drop down menu, and underneath the listed available colors it will say "Can be layered" or "Can not be layered."
1. Close Cut Carriers
When trimming your cut design away from the sheet or roll of HTV it's important to cut closely for a few reasons:
Saves as much material possible

Allows you to heat apply multiple transfers at one time
Cut back on production time by cutting your carriers closely. Overlapping HTV and carriers will adhere to each other instead of the garment, but if they're trimmed then you can avoid overlapping and apply multiple colors at one time.
Reduces the risk of a carrier impression mark on the first layer of HTV
If you're getting carrier marks consistently, check out tip #3. If they're still an issue, lower your pressure.
2. Short Presses
You know how in baking something can be under done, just right, or baked to the point of burning? Well applying HTV is kind of like baking. You don't want to over or under do it since peeling can be caused by both a too short press and too long. When pressing multiple layers its important to remember that the first layer will receive the additional heat of each press afterwards. Say you pressed a 4 color design for the recommended 15 seconds for each layer. The first layer would end up with a total pressing time of ONE MINUTE. That is one burnt cookie.
How about another example? This time showing the right way to press HTV! If you're working with an EasyWeed product, you have the benefit of the 1 second tack. Any other HTV can be applied with the Glitter method.
Prevent Over Baking HTV
1. Tan EasyWeed: 1 second tack, hot peel
2. Sweet Mint EasyWeed Stretch: 1 second tack, hot peel
3. Lilac EasyWeed Stretch: 1 second tack, hot peel
4. Passion Pink EasyWeed Stretch: 1 second tack, hot peel
5. Press everything for 10 seconds
All presses should be done with a cover sheet of some kind. Check out tip #3 for the reason why!
Over baking HTV leads to shrinking HTV! Short presses reduce the amount of shrinking from HTV and your garment. This is especially important for maintaining proper registration and alignment of your designs.
3. ALWAYS Use A Heat Transfer Cover Sheet
*Pro Tip: Use magnets to anchor a heat transfer cover sheet to the top platen.
Siser offers non stick, reusable cover sheets, but if you don't have one of those you can use parchment paper, multipurpose paper, or a pressing cloth like a clean piece of 100% cotton. The benefit of a cover sheet is that it
Protects Upper Platen

Protects Garment

Protects HTV
Previously applied heat transfer vinyl without a carrier sheet (like the first layer of a multi-color design) can melt or leave adhesive residue on the pressing platen. The residue on the platen may not be noticeable, but the next press without a cover sheet could adhere a random piece of gunk to the garment. A cover sheet keeps everything clean. Cover sheets also offer a layer of heat protection to prevent heat sensitive items from scorching.
Remember those pesky carrier marks we talked about in tip #1? Well they're easily dealt with if you use this trick. Press the HTV with the carrier for 1-5 seconds, peel the carrier according to the product, then place a cover sheet on top and press for the remaining time. Peeling the carrier early prevents it from embedding in the bottom layer, and pressing with the cover sheet evens out any marks.
4. Glitter is ONLY A Top Layer
Glitter is the star of the show, so it's never on the bottom! It might also have something to do with durability…Ok fine, it's all about durability. The textured surface of Glitter does not provide an applicable area for HTV, It can cause the material to peel off after washing. So if you want to use multiple kinds of HTV, ensure your design leaves Glitter only on top. This rule also applies to Holographic.
**These tips are published on the Siser NA website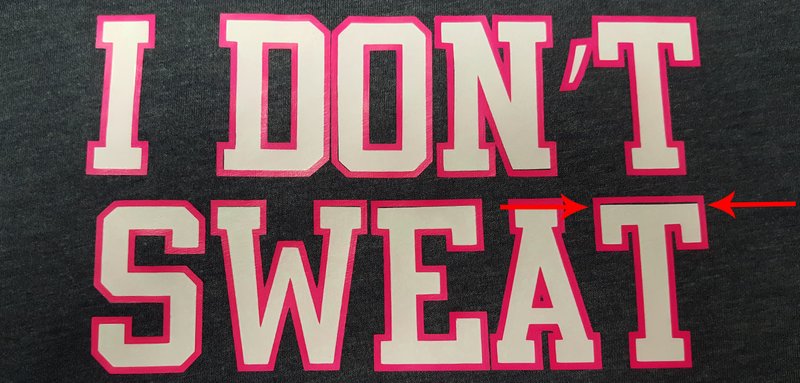 How to Prevent Shrinking HTV to Stop Gaps
So you've created your design to line up perfectly in the editing software, but when you heat apply it things don't seem quite right. The fabric peeks out between heat transfer vinyl layers where it should be flush, and now the alignment is off! What happened and how can it be prevented in the future? Keep reading for all the answers!
What Causes Heat Transfer Vinyl to Shrink?
Even with the most exact artwork, the heat factor will influence a design. Heat causes HTV and certain fabrics to shrink during the pressing process. Cotton will shrink and expand while polyester holds heat longer affecting the overall temperature of the HTV. Additionally, if you've ever touched a teflon cover sheet or heat transfer pillow after pressing, you probably already know they're still hot. So these items also hold heat and affect the pressing temperature which will shrink heat transfer vinyl more rapidly. This is not to say you have to stay away from these items and accessories, but you should be aware of how they'll affect the HTV and overall design.
How Can I apply HTV To Minimize Shrinking?
In order to keep your HTV from shrinking too much, only press for the total recommended time. For example, this 2 layer design is made up of EasyWeed™ fluorescent raspberry and EasyWeed™ Glow. They can be applied at 305°F for 10-15 seconds. We want each layer to have 10-15 seconds of time altogether, not 10-15 seconds for each layer. So press the first layer until you can peel the carrier. On a heat press, 1-3 seconds is typically sufficient while with an iron, 5-10 is more likely required. If any HTV lifts slightly when you peel the carrier, it's ok because it will get fully adhered with the second layer. Place the second layer and press it for the remaining 10-15 seconds. This process will allow the layers to shrink at the same rate.

P.S. If the first layer has shrunk enough to throw of the alignment of the second layer, you may have to cut the carrier and place the second layer piece by piece in order to keep everything lined up correctly.
How Can I Design My Artwork To Avoid Gaps?
Most often, shrinking is noticed with designs that use offsets or if you're familiar with Adobe Illustrator, strokes. These design are created so both layers of HTV rest on the fabric with only a slight overlap of HTV. Sometimes that overlap becomes a gap though. You can fiddle around with your offsets, make the lines thicker, heat apply again, and possibly you'll have no gaps. Silhouette School offers a good tutorial using offsets to make artwork layerable with no gaps. Or you can guarantee no gaps by designing you artwork with a shadow layer so that the HTV layers directly on top of each other. Either way can be done, and it's totally up to your needs and preferences, but if you don't want to worry about gaps a shadow layers is the way to go!
While offset artwork allows each layer of HTV to get the best bond to fabric, it can be tricky to maintain the alignment, which can result in gaps.
While shadow layer artwork is slightly more bulky, products in the EasyWeed family are super thin and lightweight, plus there's no possibilities of gaps forming!
Keep in mind the shadow layer artwork won't work for a 2 color Glitter design since Glitter HTV can only be a top layer. The best way to layer Glitter is with offset artwork so it can directly bond to the fabric. I go over the best process to heat apply a multi-color Glitter design in 5 Tips and Tricks for Layering HTV.